This semester's Building Construction class has gotten off to a great start! In addition to refining measurement and tool use skills, the students have had the chance to work with concrete, measure elevation changes around the school grounds, and start a project for Stiftungsfest. The building for the town festival will be used for the sale of tickets or coupons during events each upcoming August. In addition to this carpentry project, the students will move on to doing some wiring and plumbing work later in the semester.
Building Construction students made the most of some nice fall weather as they worked outside measuring elevation changes in front of the school with a transit level on a tripod and a level rod. Alex Martin, Lucas Urness, and Hunter Schroeder work on taking measurements from the level rod being held-up by Alex Romero.

Construction students Aiden Wachholz, Quinn Eischens, and Tanner Neubarth perform a concrete experiment by adding mesh reinforcement to their pour. Concrete with reinforcement proved to be much stronger than their counterparts without any added mesh or rebar.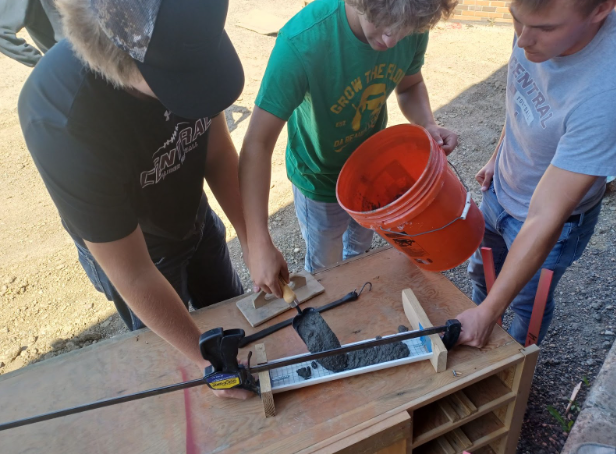 After framing the floor for the Stiftungsfest project, students are seen here nailing down the subfloor.